Crocs for healthcare, better known as Crocs Rx, were born out of the need for comfortable shoes that can be worn indoors and outdoors. As healthcare workers spend long hours on their feet, there is often a need to transition from room to room quickly—even when it means going outside in inclement weather. Additionally, many hospitals require that their staff wear non-slip shoes.
This is where Crocs come in; they are slip-resistant and provide cushioning that can ease the stress on tired feet. Plus, they are lightweight and waterproof—a significant advantage during rainy seasons!
How to Find the Best Shoes for Nurses
Nurses, doctors, and caregivers in general—these people have it rough. They work long hours, they can't take breaks, and they've got to stand and walk for long periods. But standing isn't the only part of these jobs that take a toll—patients and equipment are often heavy, too. Nursing carts can hold anything from medical supplies to IV poles full of fluids—and often include small electronic devices like computers and scales.
Health workers, including nurses, need supportive, breathable shoes that provide arch support to help ease the strain on their knees, back, and feet during those long shifts. They should also wear shoes with slip-resistant soles to protect themselves from slipping and falling while moving around hospital floors.
Nurse Wearing Red Starlight Crocs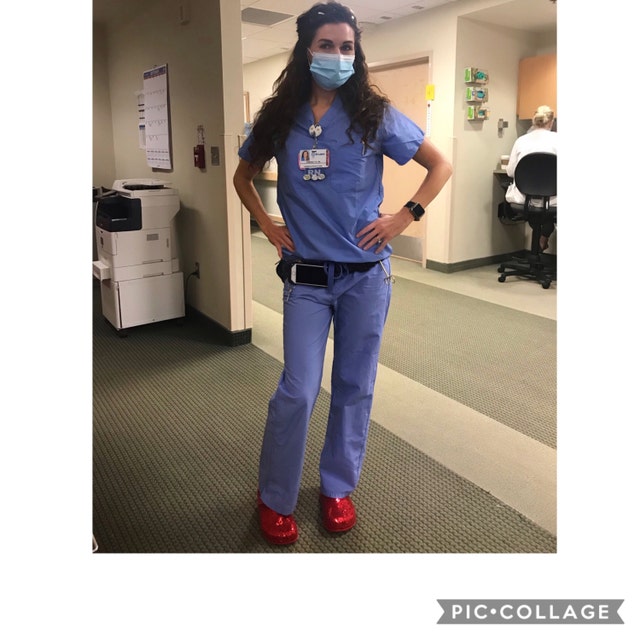 The Best Shoes for Doctors
Hospitals are places where you may be exposed to dangerous diseases or chemicals that could cause infections. As a doctor, wearing protective shoes is vital so your feet don't come into contact with disease-causing microbes in your workspace.
Your footwear should protect you from infections and injuries, provide adequate support and cushioning, and be aesthetically pleasing.
Best Shoes for Other Healthcare Professionals
For comfort and style that can meet the demands of your job, turn to the best in the business. Crocs strives to maintain the highest standards with its wide variety of quality shoes for healthcare workers.
All shoes in the collection are available in various patterns, colors, and designs to suit your preferences.
The wide range of healthcare worker shoes at Crocs isn't just about making them comfortable and lightweight; the company's signature Lock tread puts the wearer's safety first. The Lock tread in all Crocs shoes for healthcare workers provides slip resistance, ensuring a secure fit and allowing you to stay stable all day.
Want to buy a new pair of comfortable healthcare workers' shoes at a reasonable price? Visit Crocs.
Top Six Crocs for Healthcare
As noted above, Crocs offers a wide range of healthcare shoes. Some of the most popular models include:
Crocs Women's Neria Pro II Embellished Clog
The Crocs Neria Pro II is a women's health-care shoe designed for long shifts involving a lot of walking. It is fully molded and easy to clean—wash it with water and soap, let it dry, and it's ready for its subsequent use.
Available in a generous fit with room for your toes to spread out without trading off safety, it also comes with a detachable footbed liner.
The shoe is fully molded to keep your feet safe from spills and offer long-lasting comfort and protection as you complete your rounds.
This certified healthcare shoe is designed to meet or exceed the European standard for medical footwear, ASTM F2913-11 for slip resistance, and EN ISO 20347:2012 for quality.
Specialist II Clog
The Specialist II Clogs are unisex and roomy, featuring arch support to help with those long days on your feet. They come in two models: those with side holes and those without. Both models have hole-free uppers, though.
Here is a picture of the version that has side holes.
Although the Specialist II Clogs do not have the same Crocs Lock™ tread that is available in other specialty shoes like the Neria Pro II and Crocs-On-The-Clock, they have durable soles that are also suitable for outdoor use.
Other standout models are the Bistro Pro LiteRide and Bistro Clogs. They both feature the Crocs Lock™ tread for added traction but keep in mind that they have holes on top and may not be allowed in your health region.
Crocs Mercy Work Clog
The Mercy Work Clog offers a unique combination of comfort and durability. Health workers can rely on the sturdiness of the Croslite foam resin to absorb shock, while its soft jelly texture is flexible enough for all-day comfort.
The product is exceptional at supporting, massaging, and ventilating health workers' feet. This makes them more than willing to get out of bed in the morning and be productive during their hectic day without getting worked up about blisters or aches in their legs and feet.
Crocs Crocband Clog
Crocband Clog is a perfect shoe for health workers because it provides comfort and durability.
This shoe has vent holes that help to keep your feet cool and relaxed, even during hot weather. Croslite, the material used to make the shoe's sole, is lightweight yet firm enough to protect your feet from the wrath of any sharp object lying in wait on the floor.
Made of Croslite, the frame of this shoe is very lightweight, but it is firm from synthetic soles to keep the foot safe and sound. Comfort, durability, and flexibility are vital elements for making superb shoes for doctors.
Crocs LiteRide Clogs
Stop wasting money on pricey, uncomfortable shoes. This lightweight clog offers all the support you need to get through an entire shift without breaking a sweat or hurting your feet.
Loved by many clients for its amazing features, such as the LiteRide closed-cell foam insole, which are 40 percent softer and 25 percent lighter than Croslite foam, this shoe is flexible, has a soft matlite upper; and a non-marking rubber outsole.
Crocs Classic Clogs
Healthcare professionals have long favored the classic Crocs clogs for their comfort and durability. But because the classic clogs have holes, some health regions do not permit their medical staff to wear them to work because of concerns about exposure to bacteria.
These clogs come in various colors and are made with Croslite foam, which adapts to your feet for customized comfort. They are easy to clean with water and soap and are odor-resistant.
Now You Know
There you go! Now you know the best Crocs shoes for healthcare workers. Your feet are a valuable asset while working in the clinic or hospital, especially if you need to work a 12-hour shift. That is why it is vital to wear a superior, comfortable, and high-quality pair of shoes.
Relate Articles