You have an interview slated for 8 am. By 7:30 am, it's still raining, and you have to walk to the train station. But you're scared of wearing your leather shoes in rain, lest they be damaged. Then your gaze falls on your Crocs sitting near the door. You start to wonder, "Can Crocs be worn in the rain?"
Crocs can be worn in the rain. When it's raining, it's hard to find shoes that are both cozy and repel water from your feet. When wearing Crocs, your feet stay dry and comfortable no matter the weather.
If you live where it rains frequently or unexpectedly, Crocs could be your excellent alternative to rubber boots. They're lightweight, waterproof, and antimicrobial, and since they dry quickly, they're suitable for any weather condition.
It can be difficult to choose Crocs to wear in the rain, so let's take a look at all the styles that are available so you can see which ones you should and shouldn't wear in rainy weather!
Which Styles of Crocs Are Perfect for Rainy Season?
No matter the weather, you can find a pair of Crocs that will keep your feet warm and dry wherever you go. Some Crocs are specially designed for the rainy season, including the ones below.
Goth Crocs (found on Etsy)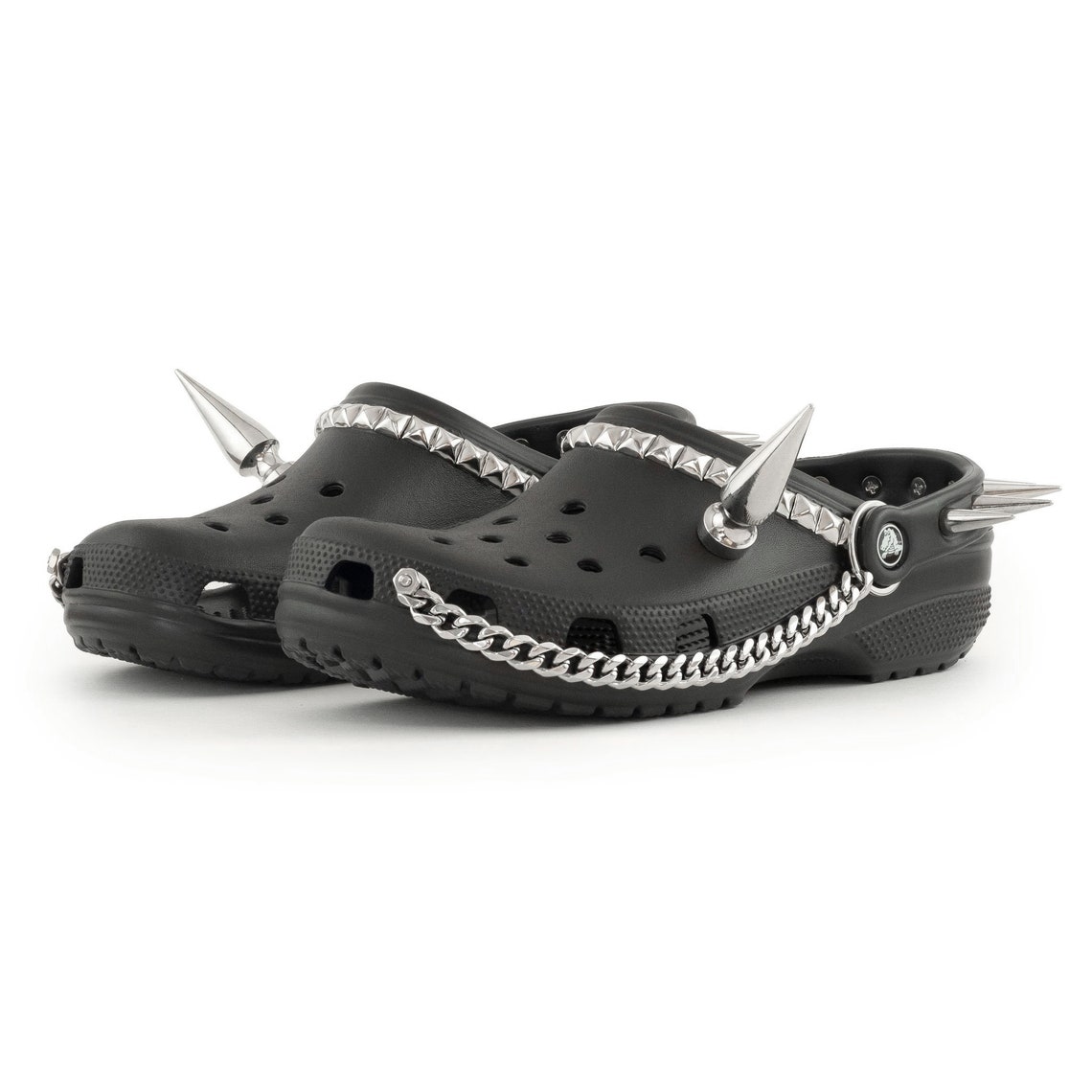 Classic Clogs
The Crocs classic clogs are the perfect shoes to wear on grass, pavement, and water. They have slip-resistant synthetic soles, adjustable heel straps for a secure fit, and holes that allow the free flow of air and water in and out of the shoes. As a result of those drainage ports, these clogs don't absorb water when you wear them in the rain.
Literide Clogs
If you're looking for a comfortable pair of water shoes, you can count on the Crocs Literide Clogs to keep your feet feeling great. The top of each shoe has holes that are designed to let air flow in, helping your feet breathe.
Also, their Literide insoles absorb neither moisture nor water, so the shoes will dry quickly once you've stepped out of the rain.
Flip-flops
When the day starts out grey, it's exhausting to mentally prepare for the ruination of shoes that must inevitably follow. But with Crocs flip-flops, you can show the rain who's boss.
These flip-flops have cushioned insoles and are made of water-resistant materials, so you can wear them in the rain without worrying about them being destroyed.
They're also perfect for canoeing, kayaking, and any water activity you can think of!
Rain Boots
On rainy days, there's no better footwear than rain boots from Crocs. Some of these boots feature handles that make it easier for you to pull them on and off.
Additionally, Crocs boots are among the lightest and easiest to clean on the market.
Twist Sandals
People suffering from plantar fasciitis can wear Crocs' twist sandals comfortably, as they offer support and cushioning. The sandals are lightweight and easy to walk in, and rain-friendly.
Flats
The sleek look of Crocs flats disguise the fact that they are rubber shoes. These rain boots are ideal fashion wear for rainy days when you want to look fashionable without sacrificing comfort.
They're lightweight and super comfy, making them ideal travel companions. And because they don't put any pressure on the toes, they can be worn all day long.
Wedges
If you're looking for a pair of comfortable wedges that are easy to put on and take off, you may want to consider Crocs. The buckles on these shoes make them extremely easy to adjust, and since they're manufactured with Croslite, washing them is super easy.
The lightweight Croslite foundation helps in minimizing fatigue. Another good thing about these wedges is that the strap is rubber. So, washing them is very easy.
Beach Line Boat Shoes
Crocs beach line boat shoes are the perfect footwear for comfort and warmth on rainy days. These shoes are made of synthetic materials that won't absorb water, so they're easy to clean and dry quickly.
You can wear them in the rain without any worry.
Factors to Consider When Choosing Crocs for Rainy Seasons
During rainy seasons, many people are clueless about how to combine fashion with comfort. Fortunately, Crocs can provide both.
Here are a few tips to help you find the best pairs of Crocs for rainy seasons.
Not Canvas
While Crocs canvas shoes are very stylish, they are not ideal for rainy days. Rainwater can soak the shoes within minutes, leaving your feet wet and susceptible to fungal infections. To avoid this problem, buy Crocs models that are made of materials that can prevent water from entering your shoes.
Water-resistance
When you have to attend important appointments, go to events or have outdoor adventures on rainy days, your footwear should be able to keep up with the elements. So, choose a pair of Crocs that are made from waterproof materials!
Comfortable
When choosing shoes for rainy days, comfort should be considered. Being in the rain is uncomfortable enough without adding sore feet to the mix. That said, look for shoes that feel good on your feet.
Stylish
Rainy days need not be dreary if you have the right fashion accessories. Crocs, for example, come in a range of designs and colors that can complement your outfits.
Will Wearing Crocs In Rain Affect Their Quality?
Few things are as reassuring as being able to trust the quality of a product. Crocs are made from Croslite material, which is highly durable and can be worn in all kinds of weather.
Which Color of Crocs Should I Wear on Rainy Days?
When you want to wear Crocs in the rain, it's best to choose black or brown ones. Beige, white, and other light-colored shoes aren't suitable for rainy weather.
If you love a particular pair of light-colored Crocs and want to wear them with your outfit, go ahead. Just make sure you clean them immediately after each use.
Conclusion: You Can Wear Crocs in the Rain
Based on everything we've discussed, it's safe to infer that you can wear Crocs for as long as you want in the rain without worrying about them getting damaged. And if you're still unsure what to think of them after all of this, I'll leave you with this advice: don't knock 'em till you try 'em.
Related Articles