A good pair of boots is essential for any job, especially when you're a roofer. Not only do you need the proper boots to protect your feet from the elements, but you also need them to help keep you balanced and stable on uneven surfaces.
Since you'll be walking on uneven surfaces with minimal traction, you want your shoes to grip the surface as securely as possible. If you don't have the proper footwear, you'll risk slipping, dropping something on your foot, or losing your grip and falling off the roof.
We've put together this list with five recommendations for the best Red Wing boots for roofing and before we delve into the details, let me list my top picks here:
That said, let's dive into the details!
Best Overall Red Wing Boots for Roofing
The Red Wing Men's Classic Moc 6-Inch Work Boot is the best overall Red Wing boot for roofing because of its durability and versatility.
The outsole of this boot is made from Traction Tred, which is a durable sole that provides excellent traction for working on roofs. The construction of this boot is Goodyear Welt, which means it will be easy to replace the sole when it wears out. This boot also has a 45 last, making it comfortable to wear during long days on the job site.
The leather type is nubuck, oiled and waxed, making it very easy to clean and maintain. The hardware used on this boot is Dark Gunmetal Eyelets, and they are durable and won't rust or corrode over time.
These boots will keep your feet warm even in cold weather conditions because they are made with Thinsulate insulation that helps regulate body heat while keeping water away from the skin. It comes in a wide size range and can be resold once its lifespan has finished to get the most out of your investment.
Best Red Wings for Light Work
If you're in the market for a new pair of red wing boots for roofing, you can't go wrong with the Red Wing Heritage Men's Chukka Work Boot. They offer a classic silhouette that looks great on just about anyone, and they're made out of high-quality full-grain leather that will last you years.
The Atlas Tred outsole provides superior traction on wet and slippery surfaces, so you can count on these work boots to keep your feet securely on the ground regardless of your job description.
The Goodyear Welt construction means that the sole has been sewn to the boot upper. This kind of craftsmanship makes it easy to resole a boot when needed, ideal if you want to wear these boots for a longer time. The 210 last means that they are made with a wider foot.
The full-grain leather is oiled, giving it a classic look while protecting it from water damage. The hardware on the boot is nickel eyelets, which are resistant to corrosion and sturdy enough to hold up to regular use, making it quick and easy to lace up.
Best Red Wing Boots for Walking
The Red Wing Men's Blacksmith 6-Inch Leather Work Boot is great for roofers, with a look and feel of the traditional Irish Setter. Though, it's been updated with a Vibram® 430 Mini-Lug outsole for improved traction on slippery surfaces.
These boots feature Goodyear welt construction, which means that the sole can be replaced when it wears out. The leather upper is full-grain, waxed for water resistance, and features steel shanks for stability and support. The steel shank also helps to provide arch support.
The insole is also removable, so you can insert orthotic inserts if you need them. The Vibram® 430 Mini-Lug outsole provides traction on slippery surfaces like roofs or docks. And it's oil-resistant and non-marking, so it won't leave behind evidence of where you've been working.
These boots are available in brown or black, but both colors have been treated with natural oils that help protect them against water damage and stains. They're also resoleable, so you can get them repaired if they happen to wear down over time.
Red Wing Blacksmith also comes with an eight-inch ankle strap, so you can use this boot without worrying about slipping or falling over due to poor traction from your shoes.
Best Casual Red Wing Boots
The Red Wing Men's Iron Ranger 6-Inch Work Boot is a super-comfortable boot that gives you adequate foot protection. The Vibram® 430 Mini-Lug outsole gives you excellent traction and support, while the Goodyear Welt construction provides superior comfort.
The Vibram 430 Mini-Lug outsole takes inspiration from lug soles found on mountaineering boots and adds traction when working on a roof or climbing rocks. It also has fantastic traction in wet or icy weather, so you don't have to worry about slipping and falling when trying to get back inside at the end of your shift. You'll also be well supported since these boots come with a steel shank that's built right in.
The Goodyear Welt construction makes this boot extremely durable and strong, so it will last for many years without needing repairs or replacement parts. The roughout, oiled leather makes your feet feel comfortable enough to wear all day without getting blisters or rashes from rubbing against rough surfaces.
They are also available in various colors, such as brown, black and tan, which makes them perfect if you want something that will go well with most outfits without being too flashy!
Best Lightweight Red Wing Boots
The Red Wing Men's Weekender 6-Inch Work Boot is perfect for roofing and other outdoor activities. It offers comfort and durability while being lightweight.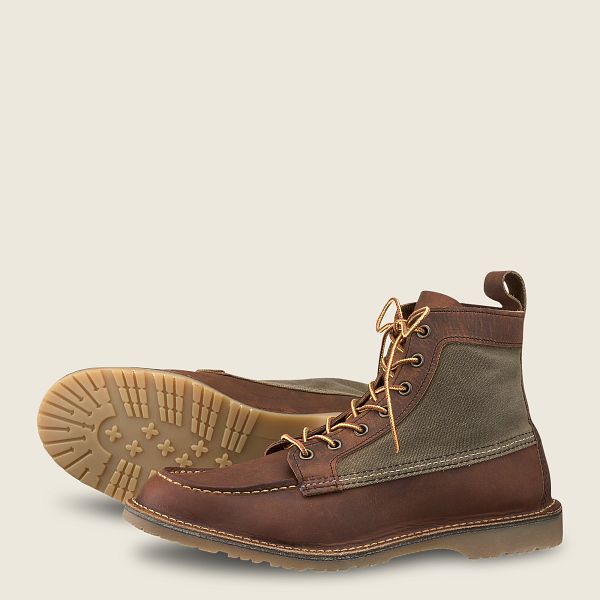 Red Wing Men's Weekender 6-Inch Work Boots
This boot features a Vibram® Honey Wheat Mini-Lug outsole and "Stitchdown" construction, making it comfortable to wear all day and durable enough to withstand the elements. It's made from high-quality leather that has been oiled and waxed for extra protection against water damage or wear and tear.
This work boot has a 63 last, which fits most foot shapes. It also comes with brass eyelets to help secure your laces and prevent them from loosening up while you work. You don't need to worry about having to replace them soon—these are resoleable, so you'll be able to keep wearing them for years without any problems.
The 6-inch shaft height is tall enough to help keep your ankles supported while still being small enough to allow them to flex as you work. Perfect at home in the office or on a trail, the Red Wing Men's Weekender 6-Inch Work Boot is the most versatile boot for roofing.
Frequently Asked Questions
What is the best material for roofing boots?
The best material for roofing boots is any material that will provide a solid grip on the surface of your roof. Whether you're working with asphalt shingles, cedar shakes, metal shingles, or other materials, the right tread and sole can keep you safe while you work on your roof.
When you're working on a roof, you need dependable traction, which means you'll want shoes or boots with deep, knobby treads. This lets the cleats get a good grip on the shingles and keep you from slipping. You can also get rubber-soled boots with slip-resistant soles to help you stay on your feet.
Should you have different boots for different types of roofs?
Yes, it is important to have different boots for different types of roofs.
Each type of roof requires different safety precautions, and wearing the wrong kind of boot could result in an injury. Roofing boots are designed specifically for the various kinds of roofs you might be working on. The more specialized the boot is for a particular project, the better it will protect your feet and ankles from injuries.
For example, if you're installing slate roofing, you want a boot that can handle the sharp edges of that particular material. You also want a boot that can provide a good grip on the slate surface so you don't lose your balance and fall off the roof while installing or repairing it.
Slate roofs are often slippery, so having a boot with a good grip is vital. Similarly, when working on asphalt shingle roofs, you want to make sure your shoes have enough tread to keep their grip on this type of material as well.
If you're working on a wooden roof, slip-resistant boots are even more important because wet wood is slippery than slate or asphalt shingles.
These boots typically have deep grooves in their soles to ensure maximum traction on wet surfaces like wooden roofs.
What to keep in mind when buying boots for roofing?
When it comes to working roofs, you don't want to be caught without high-quality boots. They're a small investment that can make a huge difference in your comfort and safety while on the job.
Here are a few factors to consider when making your purchase.
Work environment: What kind of roof are you walking on? Is it metal? Regular shingles? What type of weather conditions will you be working in? Is it usually hot, cold, or rainy there?
Finding boots designed for the kind of roofs and weather conditions you'll be working in will ensure that you're safe and comfortable while you work.
Size: You don't want to buy boots that are too tight or too loose because they will impact your comfort and safety. If you have wide feet, look for boots with extra-wide options for the best fit.
Also, check the manufacturer's size chart if possible—some brands run larger or smaller than others.
Leather Material: Roofing is a serious business, so you want a boot that's designed for the task at hand. Look for boots made with sturdy materials like leather or synthetic leather, such as Red Wing Men's Classic Moc 6-Inch Work Boot. It will keep your feet protected from scrapes and cuts while providing plenty of grip on tricky surfaces like gravel or metal roofs.
Rubber Sole: If you're walking on flat surfaces, it's good to go with a work boot with a thick rubber sole (for insulation from any heat that may radiate up from the roof itself) and some traction in the front half of the sole.
If you are walking on rough ground or steep slopes, you may want to look into a more technical climbing shoe.
Durability: The best way to ensure that your boots will last is by buying a pair with a waterproof membrane. It's also good to shop at a store that sells boots made by multiple brands so you can find the brand whose sizing fits you best.
Quality: If cost is an issue for you, then keep in mind that it's usually worth spending more money on your boots if they last longer. If they break down early and need to be replaced frequently, they'll cost more than if they were made from higher-quality materials that didn't degrade so quickly.
How long do Red Wings take to break in?
Red Wing boots take three to four weeks to break in.
When you first start wearing your boots, they may be stiff and not fit as comfortably as you'd like. But don't worry! Over time, the leather will conform to your feet and become more flexible. This all happens naturally through wear, so don't try to speed things up by using heat or oil.
You can use a boot conditioner on your Red Wings if you want, but it won't make them break in any faster, and it might change the color of the leather if it's not compatible with that particular type of dye.
Best Red Wing Boots for Roofing, Final Thoughts…
It's important to choose a boot to protect your feet, from your comfort to the type of environment you'll be working in. If you've never worn a pair of Red Wing boots, we recommend going into a store and trying on a few pairs to see which one feels best on your feet.
We recommend the Red Wing Men's Classic Moc 6-Inch Work Boot as the best choice for roofers. It provides a durable tread and reliable traction to keep you grounded on a roof, even in slippery conditions.
Finding the right pair will make your job easier and improve the quality of your work. Therefore, we hope this list helps you find the perfect pair for your budget, style, and comfort preferences. All of the boots listed above are top-of-the-line for quality and functionality–whether you're a roofer, construction worker, or just looking for a pair of long-lasting boots to wear every day!
Before you go, let's review my top Red Wing Boots for Roofers…
Related Articles