On a cold winter day in 2009, I brought up the idea of getting some snacks for myself and my college roommates from the grocery store while we waited for our pizza delivery. But on my way to the grocery, I stumbled on a Crocs retail store, and bought a pair of Fuzzy Crocs with the money.
When I returned to the dorm, I learned that the pizzeria hadn't delivered our order. We waited in vain until the early morning hours, then fell asleep one by one. If you ever find yourself in such a situation, do well to ask yourself, "Are fuzzy Crocs worth it?"
Fuzzy Crocs are a worthwhile investment. They cost nearly the same as the classic iconic Crocs and are perfect for those colder days or evenings when you want to wear Crocs indoors but need a little extra warmth.
If you're new to the Crocs craze, you might not realize that there are so many choices of Crocs now. The brand offers many different shoes, including fur-lined or fuzzy clogs, sneakers, sliders, flip flops—and don't forget about rain boots and winter boots!
Recently, Fuzzy Crocs have become extremely popular. They are selling out quickly in stores and online.
Join me as I reveal why people buy these adorable Crocs and what makes them worth every penny.
What Makes Fuzzy Crocs Different?
Fuzzy Crocs are not covered in fur. They're a hybrid of fur-lined slippers and clogs. While their outer shells are made of Croslite ™ and molded into clog shapes, their interiors are lined with faux fur.
They also have holes on top, which make them breathable, and heavily-cushioned heel sections like Iconic Crocs clogs. So what exactly makes them different from Iconic Crocs? Their faux fur linings! Those linings are present to provide your feet with extra comfort and warmth.
Why Are Fuzzy Crocs Worth it?
Regardless of how you feel about Crocs, you can't deny the popularity of fuzzy-style Crocs. These brightly colored shoes are sold at a very affordable price but continue to be favored by kids, teens, and adults. Why? Here are a few reasons:
Amazing Design
The many features of Fuzzy Crocs crown them the go-to footwear for many people. The straps on these clogs are adjustable, and the exterior portions of the shoes are easy to clean.
Wipe the outer parts of your Fuzzy Crocs with a damp cloth if mud or dirt spills on them. Their integrated pivoting straps can secure your feet when placed across the back of your heels. If you're at home or someplace where you need to slip your feet in and out of the shoes quickly, you can swing the straps over the lips of the shoes to set them in "slip-on mode."
Very Lightweight
Furthermore, Fuzzy Crocs are very light, almost weightless—a dream come true for many of us who struggled with heavy shoes before.
Durable
One of the many reasons people love Fuzzy Crocs is that they last for many years. The shoes are made of high-quality, resilient materials, so buyers are assured that they can endure several months of use.
Despite their durability, these Crocs won't serve you well if you don't treat them right. I recommend taking good care of your shoes to make them last longer.
Easy to Clean and Maintain
Ah, who doesn't appreciate easy-to-clean shoes? You can hand-wash or spot clean your Crocs with cold water and mild soap and wash their linings in the gentle cycle of your washing machine.
No Bad Smells
One thing is for sure; your feet will sweat when you wear these shoes. However, unlike other shoes, these will not make your feet smell bad. They are safe to use in the muddiest of streets, the hottest of summers, and the coldest of snow.
Detachable Fuzzy Lining
There are two styles of fuzzy Crocs, those with detachable linings and those whose linings aren't removable. If you have a pair of the former, like Blitzen III Clogs, then this section is for you. Before washing the clogs, you need to detach their linings. Let me show you how.
First and foremost, press down the rivet on one side of the shoe, then slowly lift the lining from that side. Repeat this process on the other side of the shoe to set the lining free. Gently handwash the lining with mild soap and cold or lukewarm water and leave it to air-dry.
Relieve Chronic Foot Pain
Real or imagined, people with chronic foot pain report that Crocs shoes bring relief. For some, it's the soft lining; for others, it's the comfort of a shoe without laces. Idon't know precisely why Crocs help so many people cope with pain problems, but I do know many people love their fuzzy Crocs.
The shoes also prove ideal for people whose mobility is limited, like those who recently underwent foot surgery. The fuzzy linings provide a luxurious sensation, exactly what patients deserve.
Shoes for All Ages
Fuzzy Crocs are not just manufactured for adults. For your little ones, Crocs has a collection of warm and weather-resistant kids' shoes. Start your kid's collection of Crocs with the fuzzy ones. These comfy and easy slip-ons are outfitted in a variety of fun and eye-catching patterns, plus they're fully lined to keep tiny toes heat-wrapped.
Behind the Scenes of Crocs Clogs
People often wonder what Crocs are made from and whether the material is comfortable. This video addresses these questions.
How to Restore the Fuzziness of These Crocs
It's easy to make Fuzzy Crocs fuzzy again. Just fill a bucket with cold water, mix it with a generous quantity of dish soap, and wash the shoes in soapy water. Rinse them properly with clean water, and when they're dry, sprinkle baking soda inside them.
Ensure the baking soda covers every inch of the shoes' interiors. Let the soda sit in the fuzzy Crocs overnight, and they'll be furry as new when the day dawns!
Where Can I Find Fuzzy Crocs?
You can certainly find fuzzy Crocs at your retail stores in your neighborhood, or you can click the links below to see current pricing and what's available on Amazon:
Crocs Classic Tie Dye Unisex Clogs
Are Fuzzy Crocs True to Size?
The sizes of fuzzy Crocs seem to run a little small. I wear a size nine, and for fuzzy Crocs, I have to wear a size ten. My son wears size eight-and-a-half shoes, but he's comfortable in size nine fuzzy Crocs.
You should try to test your new Crocs inside before wearing them outside so that if they don't fit right, you can easily exchange them for a larger pair.
How to Maintain the Quality of Fuzzy Crocs
To keep your fuzzy Crocs in good shape, don't leave them in the hot sun or near heat sources like dishwashers.
As long as the Crocs do what they're supposed to — keep feet warm — it doesn't matter what anyone says about them. And if you're anything like the nurse in the picture below (Hi, ladies!), then you'll wear the hell out of these bedazzled beauties on your summer vacation.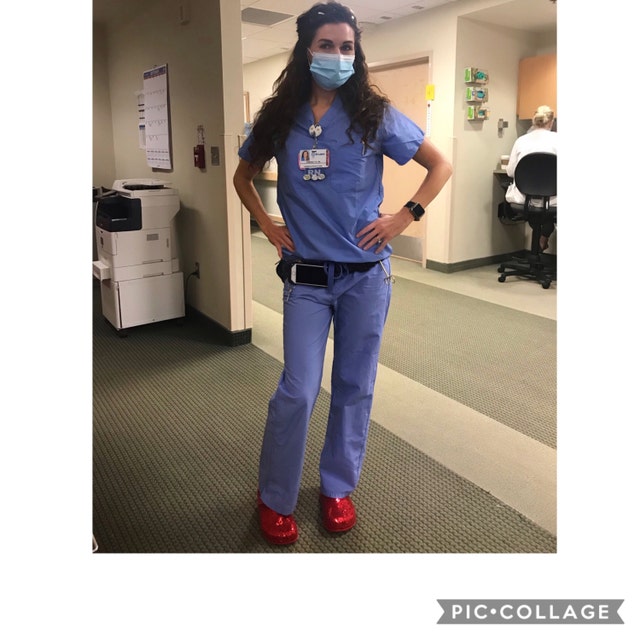 Related Articles